GENERAL PROCEDURE
1. Attend Parent Orientation. Click here to register and schedule your orientation.
2. Submit all application Requirements to the Admissions office. Admission will call for the testing schedule.
3. Pay the processing fee.
4. Call the Admissions office after 3 working days for the test result.
5. Admissions personnel will call for the interview schedule.
6. Receive the acceptance letter.
STEP 1: Parent Orientation
The family applying for admission must understand and agree with the philosophy, policies, goals and regulations with which the school operates.
It is essential that both parents attend the orientation on the Montessori educational process.
The orientation is usually held at 9:00 a.m. on the 2nd and 4th Thursdays of the Month.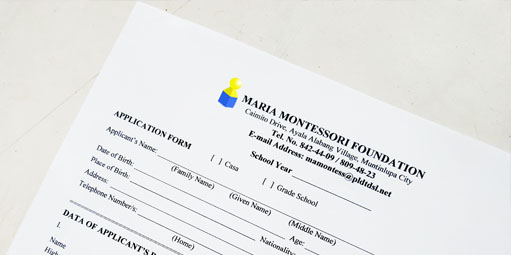 STEP 2: Submit all admissions requirements
General requirements:
Birth certificate from the Philippine Statistics Authority (PSA) or Certificate of recognition as a Filipino Citizen if with dual citizenship
1×1 ID picture (4 pcs.)
Psycho-educational assessment reports – if any
*For Casa
School Records – for those with previous schooling
* For Elementary (Grades 1-5)
Certified True Copy of Report Card with Learner's Reference Number (LRN)
Report Card of the preceeding school year
Certified True Copy of current school's government permit/recognition
Two (2) recommendation letters from previous school
*For foreigners:
1. Original Birth Certificate
2. Transcript of Records, Report card
Note: The above requirements need to have an English translation duly authenticated by the Philippine foreign service establishment at the student's country of origin or legal residence.
3. Photocopy of passport (bio page and visit page) Kindly bring the original copy of passport.
4. Alien Certificate of Registration (ACR)
Processing Fee:
Payment of processing fee on the testing date: P1, 000.00
 STEP 3: Take the entrance test as scheduled.
An applicant will only be scheduled for testing if he/she meets all admissions requirements.
Qualified applicants for testing will be notified through phone for the testing date.
Entrance test is scheduled as follows:
For Grades 1 & 2 – one on one testing for two hours
For Grades 3 to 6 – group testing for four to four and a half hours
For Casa – 30 minute assessment
4. Come for the scheduled interview.
Those applicants who passed the necessary admission requirements for the level they applied for will be scheduled for interview.
Parents and child shall come for a scheduled interview with the Assistant School Head/Montessori Coordinator.
 Acceptance Letter
Acceptance letter will be given when the applicant passed the test and interview.
Pay at least 25% of the school loan within 10 working days upon receipt of the letter of acceptance, as a commitment for enrollment. We shall interpret your non-response as a decision not to enroll at MMFI.